A newcomer to the ArtSalon?
The ArtSalon gives artists of many disciplines a platform to present their work and discuss their artistic process with the public through Pecha Kucha (pronounced peh-chak-cha) style presentations. This format allows the 4-5 artists to present for  6 – 8  minutes each, followed by a Q & A with the audience. This ongoing series of live oral presentations about creativity, process, and finished work reveals the vitality of contemporary visual arts in Western Massachusetts. Come meet and join the artists, creators, critics, and collectors in a friendly, dynamic, social gathering of conversations about the arts in our community!
Like many live arts events in 2020, due to the COVID 19 pandemic, The ArtSalon events were postponed.  However we were excited to offer the public UP CLOSE, a film series created by videographer Nick Verdi. The UP CLOSE Series provides a window into the art practices of Valley area artists through studio tours and curatorial driven interviews.
In February, 2022, the ArtSalon returned to live presentations with a vibrant, fully attended event at 33 Hawley in downtown Northampton.  Since then the ArtSalon is scheduling four salons per year at different venues throughout the valley.
Meet the Committee:

Lisa Thompson is the former Associate Director of A.P.E. where she managed all of A.P.E.'s programming since 1996.  She is an original member of the ArtSalon steering committee and has been instrumental in the formation of the Northampton Community Arts Trust whose mission is to create and preserve affordable spaces for artists into the future.
---
Donnabelle Casis is a visual artist​ who lives in Florence. In addition to the Curatorial Committee of the ArtSalon, Donnabelle is also the creator/founder and producer of Florence Night Out, an annual community arts street festival highlighting the work of regional visual and performing artists. She promotes the work of Pioneer Valley artists and arts organizations on her weekly radio segment on Fridays called the ArtBeat Report on Talk the Talk/WHMP. Her work has been exhibited in museums and galleries across the US and abroad.
---
Amanda Herman lives in Florence and is the Education Curator at the University Museum of Contemporary Art at UMass, Amherst. She holds a MFA from California College of the Arts in San Francisco and has been a visiting lecturer of photography and Social Practice at Smith, Hampshire, Amherst and Mt Holyoke Colleges. From 2012-17, she produced Live Art Magazine, an annual art and music magazine created for the stage at the Academy of Music. She is Vice-President of the Board of Trustees at Historic Northampton and visual arts curator of Florence Night Out, an annual street festival in Florence. She's committed to building community through art.
---
Priya N. Green is a visual artist who lives in Springfield. She shows her work both nationally and internationally at various galleries, museums, and art fairs. She received a BFA from Rutgers University and an MFA from the University of Massachusetts Amherst, where she received a graduate fellowship in Painting. Priya has previously served as a board member for the Bing Arts Center. She currently teaches studio art at various colleges in the region.
---
Kim Carlino is an interdisciplinary artist working in Easthampton, Massachusetts. She received her BFA from the University of Massachusetts Amherst. Carlino is a public artist, painter and artist organizer. Carlino has exhibited widely both locally and nationally. Carlino was a member on the team of artists that installed the 25 year Drawing Retrospective of Sol LeWitt's Wall Drawings at MASS MoCA in North Adams, Massachusetts in 2008. Carlino's awards include the Prutting Award for Painting, Bromfield Solo Competition, Dehn Visiting Artist Fellowship, and a 2016 Massachusetts Cultural Council Fellowship in Drawing and Printmaking. Carlino has been painting murals since 2014 and has completed numerous mural commissions as well as public art projects for the City of Springfield, City of Colorado Springs, City of Northampton, Lower Eastside Business Improvement District, NYC Department of Transportation, Isenberg Projects in Boston, Turning Art, Grand Rapids ArtPrize, Marshalltown Iowa, Orange Virginia, the NYC Garment District Alliance and recently a commission for Google Headquarters in Cambridge, MA.
---
Communications Coordinator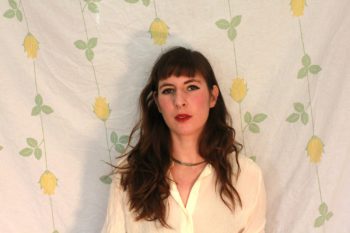 Madison Palffy is a performer, dance-maker, improviser, and visual artist based in western Massachusetts. She holds an MFA in Dance and Choreography with an emphasis in Somatics and Improvisation from University of Colorado, Boulder. Her work is work is driven by a sense of experimentation and artistic cross-pollination and insists that the body is inherently wild and strange. She has had the pleasure of performing in work by Anya Cloud, Chris Aiken, Angie Hauser, Kathleen Hermesdorf, Paul Matteson, Wendy Woodson, and Lailye Weidman (among others). Her work has been shown at Studio 303 (Montreal), The Iron Factory (Philadelphia), Ponderosa (Germany), The School for Contemporary Dance and Thought (Northampton, MA), GreenSpace (NYC), AS220 (Providence, RI), The Dairy Arts Center (Boulder, CO), and throughout New England. Madison is a founding member of LOCULUS, a dance and performance collective that creates performances in non-traditional spaces and produces an experimental dance journal. Madison has taught dance and movement education in a wide variety of settings such as weekly classes, workshops, and intensives to adult beginners, high school students, undergraduates, and professional dancers.